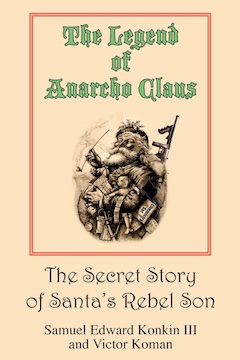 The Legend of Anarcho Claus
by Samuel Edward Konkin III
and Victor Koman
First Edition!
For the first time anywhere, the true and complete story of Anarcho Claus, who defies his famous father to bring forbidden toys to non-coercive girls and boys. Little Janie wants something her parents don't think she should have, but jolly not-so-old Anarcho Claus smuggles it to her under Santa's radar — and spirits her away to Elf-Land for an eye-opening tour.
Three-time Prometheus Award-winner Victor Koman expands Samuel Edward Konkin III's original story into a full-length book destined to become a Christmas classic. Own the first edition now!
Paperback, 60pp, 5½″ x 8½″, First Edition,
autographed by Victor Koman

$9.95




Special Christmas-Gift Price $7.95!


ISBN 978-0-9777649-5-2
Home

|

Fiction

|

Non-Fiction

|

New Libertarian Publications

|

The Force

|

Merchandise

|

Terms

|

About

|

Contact us