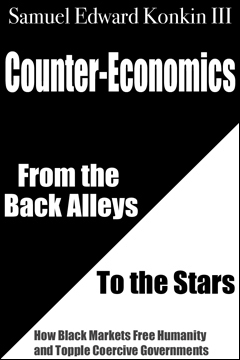 Counter-Economics
by Samuel Edward Konkin III
Hardcover First Edition!
"Are you reading a self-help book, a personal-liberation manual, a financial advisory, an esoteric economics text, an anti-political platform, a muckraking history, a sensational exposé of underground life, or an anarchist cookbook? The answer is all of the above.
"The focus of the book is to show the reader what Counter-Economics is. We'll look at it in every aspect of life in all parts of the globe and beyond. Black market; grey market; dissidence foreign and domestic; tax resistance; economic feminism; underground schools and shopping centers; gold, silver, barter, and illegal aliens; creative computing and secure information systems; gun-running and Bible-smuggling; life extension and intelligence increase; self- fulfillment and psychiatric resistance; sensational exploits and cold, hard, historical revisionism; alteration of inner space and outer space — it's all here."—From the Introduction
Coming Soon!



-->
Home
|
Fiction
|
Non-Fiction
|
New Libertarian Publications
|
The Force
|
Merchandise
|
Terms
|
About
|
Contact us